Protecting Barnstable's Water Resources
The Comprehensive Wastewater Management Plan (CWMP) is a townwide, state approved, science based plan to protect Barnstable's coastal waters, ponds, and drinking water by managing nutrient pollution from wastewater. Learn more about Barnstable's water quality and your role as a property owner in septic to sewer conversion.
Receive project updates and water quality news direct to your inbox.
Preserving Our Quality of Life
The Town of Barnstable's water resources are vitally important to how we, as a community, live, work and play. The Comprehensive Wastewater Management Plan is the Town's environmental initiative to connect properties currently on septic systems to the townwide wastewater collection and treatment system, thus improving the health of nearby waterways. Without the proactive measures implemented through the CWMP, there would be detrimental risk to our wellbeing, home, environment, and economy.
Surface and groundwater from our properties flow to our neighboring salt and fresh water environments; these flows are organized by watersheds. The CWMP addresses seven watersheds for our saltwater embayments – Barnstable Harbor Watershed, Centerville River System Watershed, Halls Creek Watershed, Lewis Bay Watershed, Popponesset Bay Watershed, Rushy Marsh Watershed, and Three Bays Watershed.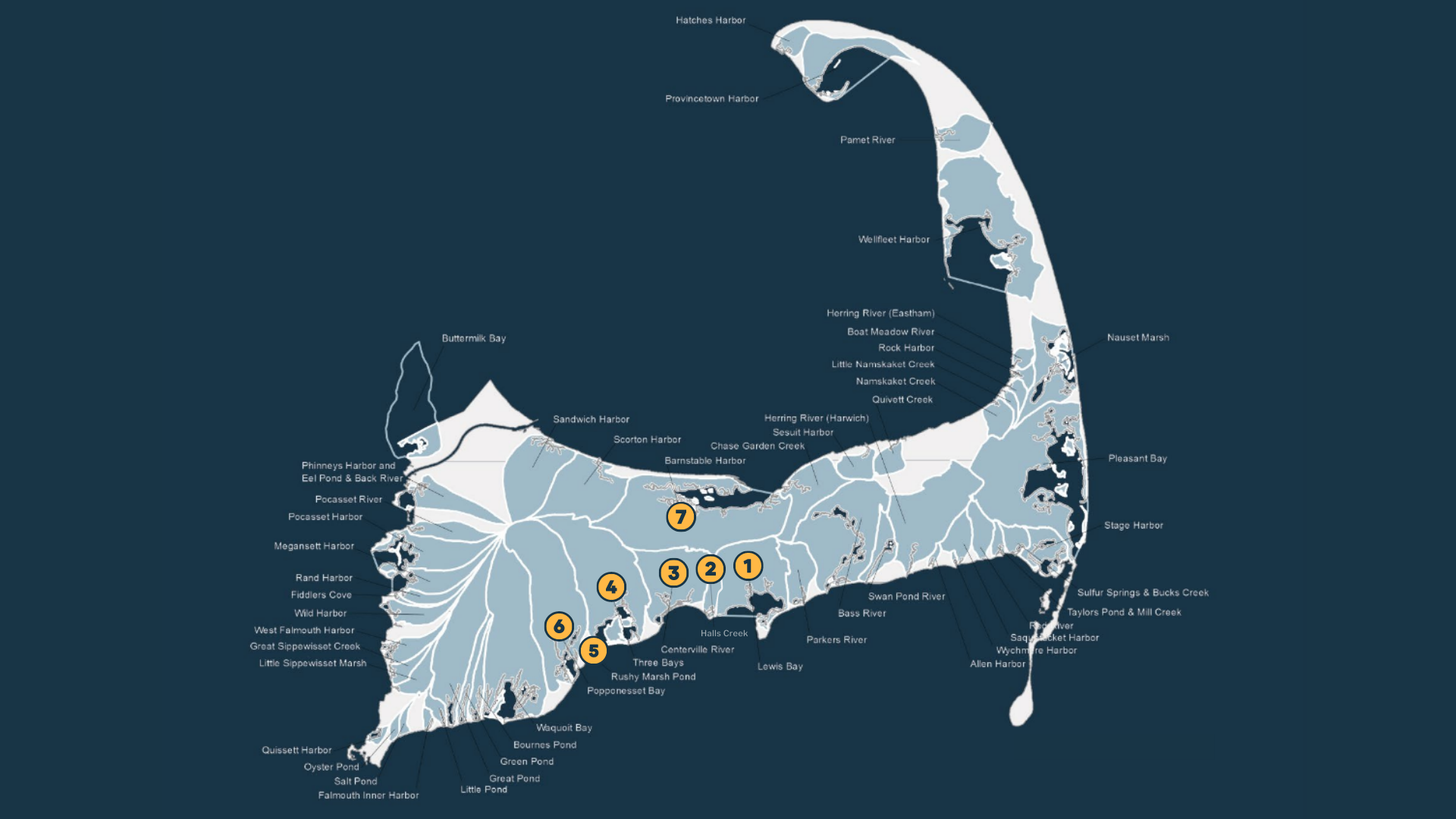 Town of Barnstable Watersheds
Approximate Nitrogen Generation
The 30-year Comprehensive Wastewater Management Plan (CWMP) is comprised of three, 10-year phases, predominantly focused on sewer expansion.
Each phase consists of multiple individual projects that will proceed through permitting. The plan is designed to reduce nutrient pollution in embayments to a level consistent with regulatory thresholds know as Total Maximum Daily Loads (TMDLs).
Currently, the Town is operating within Phase 1 of the CWMP. Phase 1 consists of 16 individual sewer expansion projects that will result in roughly 90 miles of new sewer infrastructure. Once complete, Phase 1 will remove approximately 44% of the nitrogen impacting our waters.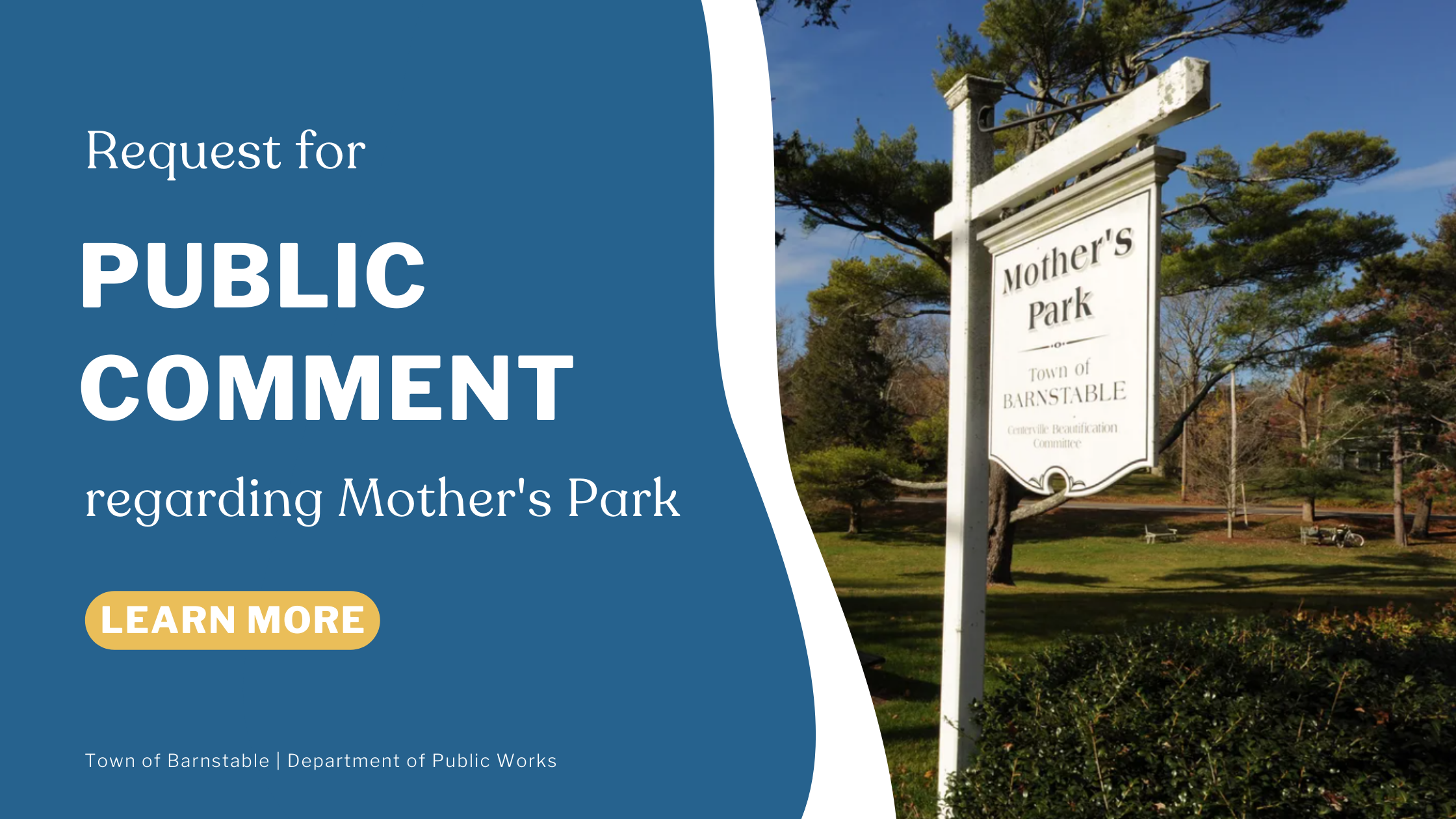 Mother's Park: Request for Public Comment
As part of the Town of Barnstable's Comprehensive Wastewater Management Plan (CWMP), the Town is seeking Legislative approval for proposed alterations to Mother's Park, Centerville. Public comments will be accepted until close of business on Monday, May 15, 2023.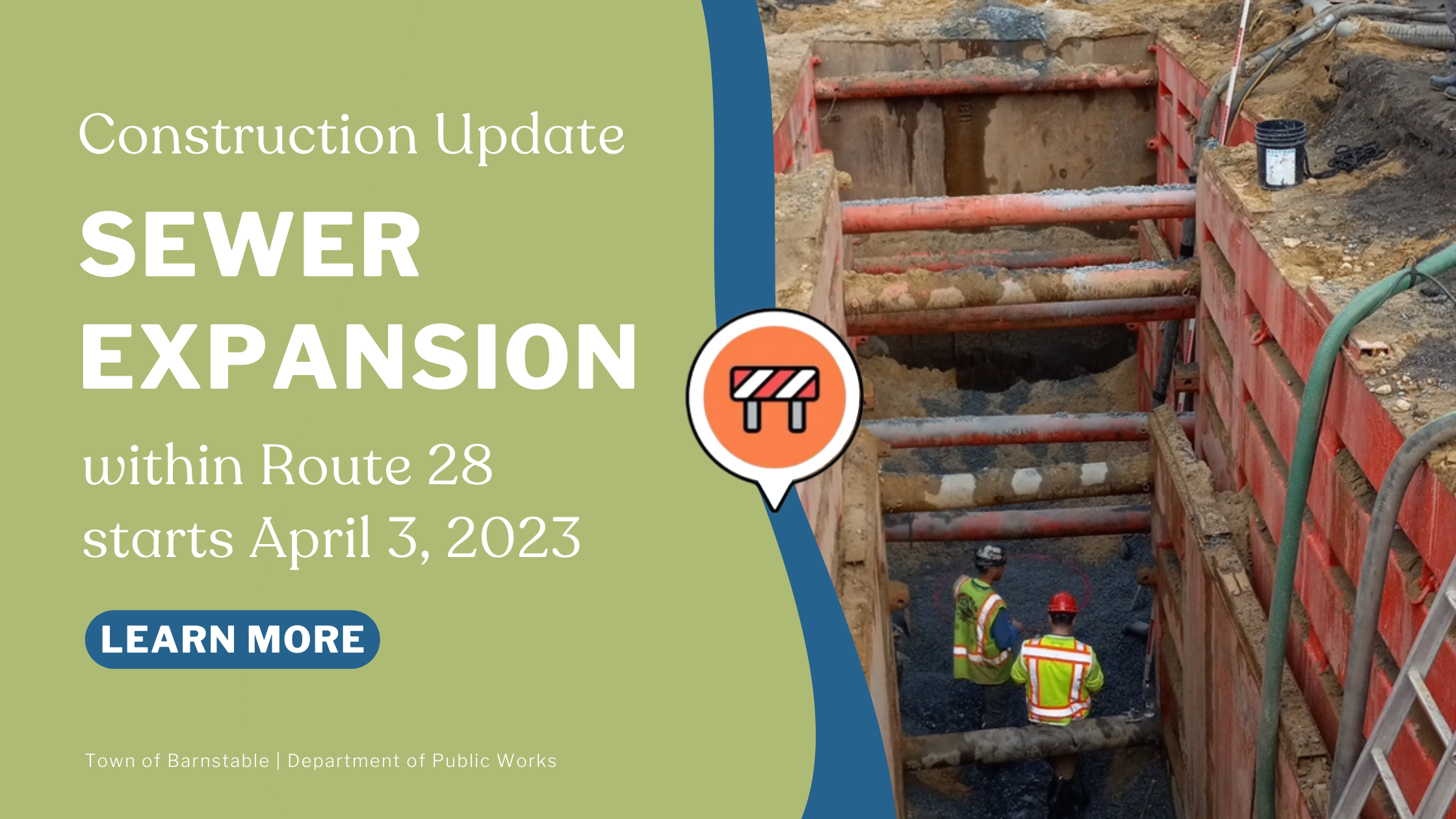 Sewer Expansion Transitions to Route 28
Starting Monday, April 3, 2023, through Friday, May 25, 2023, sewer construction will transition into the Route 28 roadway. Construction will occur during the hours of 8:30AM to 5:00PM, weather permitting. Posted detours will be in place, supported by onsite traffic control.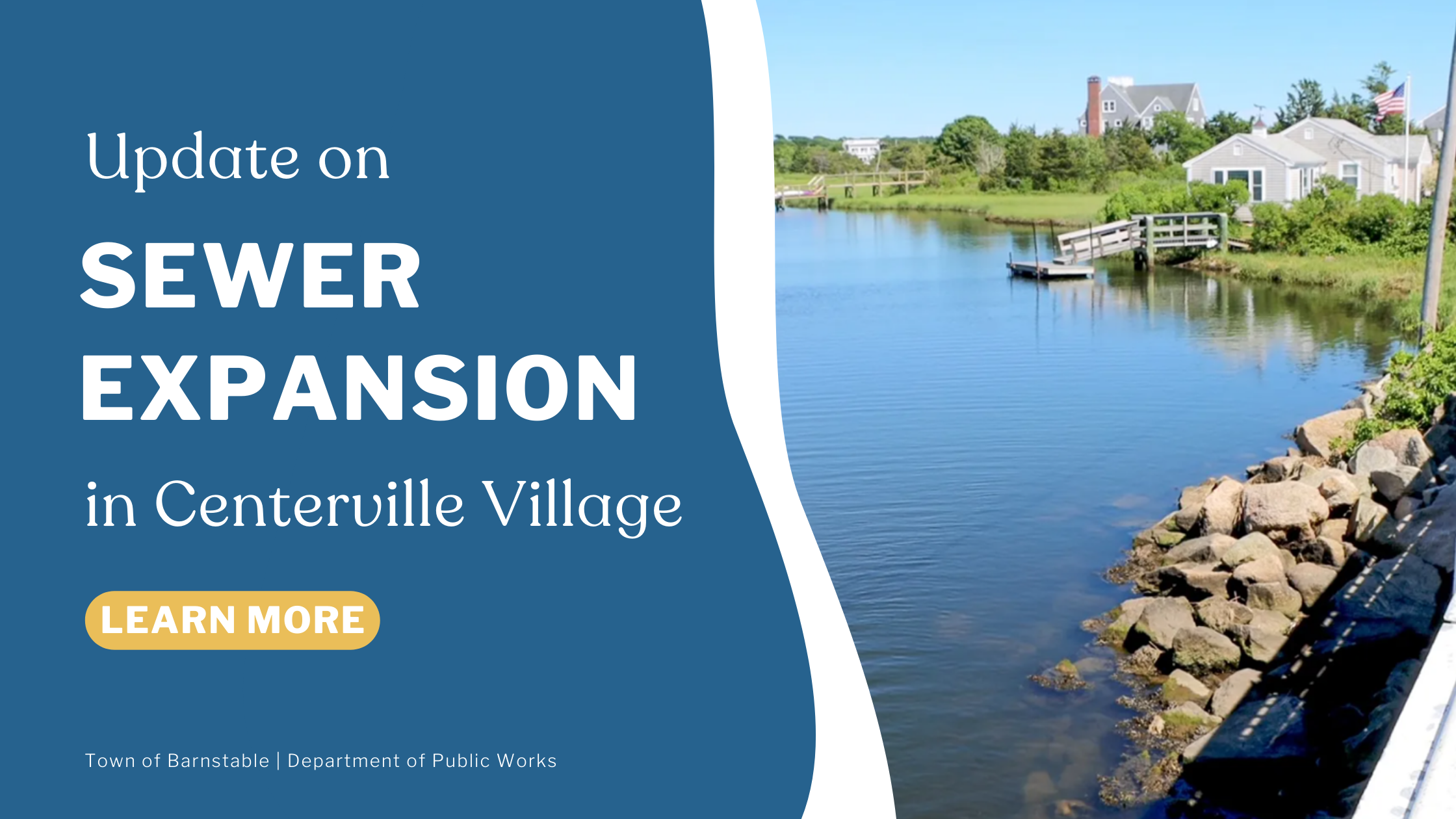 Update on Sewer Expansion in Centerville Village
On Tuesday, March 14, 2023, Town Engineer, Griffin Beaudoin, P.E., provided an overview of the Centerville Village Sewer Expansion Project, which effectively will follow the proposed Park City Wind project route from Craigville Beach Road to Shootflying Hill Road.
Water Quality is Everything
The primary source of nitrogen pollution is wastewater from septic systems. Septic systems allowed under current Title 5 regulations do little to remove the excess nitrogen chocking our coastal waters. Other nutrient and pollutants from septic systems also threaten our fresh water ponds.
By reducing nutrient pollution in embayments, the CWMP also protects water quality in ponds, and drinking water sources. In addition to meeting water quality thresholds, the plan is designed to provide the wastewater infrastructure needed to support community economic development and affordable housing needs.
Need Additional Assistance?
The Department of Public Works is here to educate, guide, and equip property owners throughout construction and the sewer connection process.