PHASE I SEWER EXPANSION PROJECT
The Strawberry Hill Road and Route 28 East Sewer Expansion Projects are ongoing.

As construction progresses, traffic management plans will adapt to support a safe working environment, while also addressing local traffic needs.
Current road closures can also be tracked via mobile device using the Waze app or Google Maps.
We get it, changing traffic patterns and moving work zones can be frustrating. Please be patient as construction plans are fluid. Changes to active construction locations are dependent on multiple factors including weather. The best way to stay informed on changing traffic patterns is by reviewing real-time road closures and detours via the Waze App or directly on browser-based Waze Live Map located at: https://www.waze.com/live-map
Want real-time traffic advisories sent directly to your email? Sign up for digital traffic updates via Barnstable Water Resources, here: https://barnstablewaterresources.com/news-updates/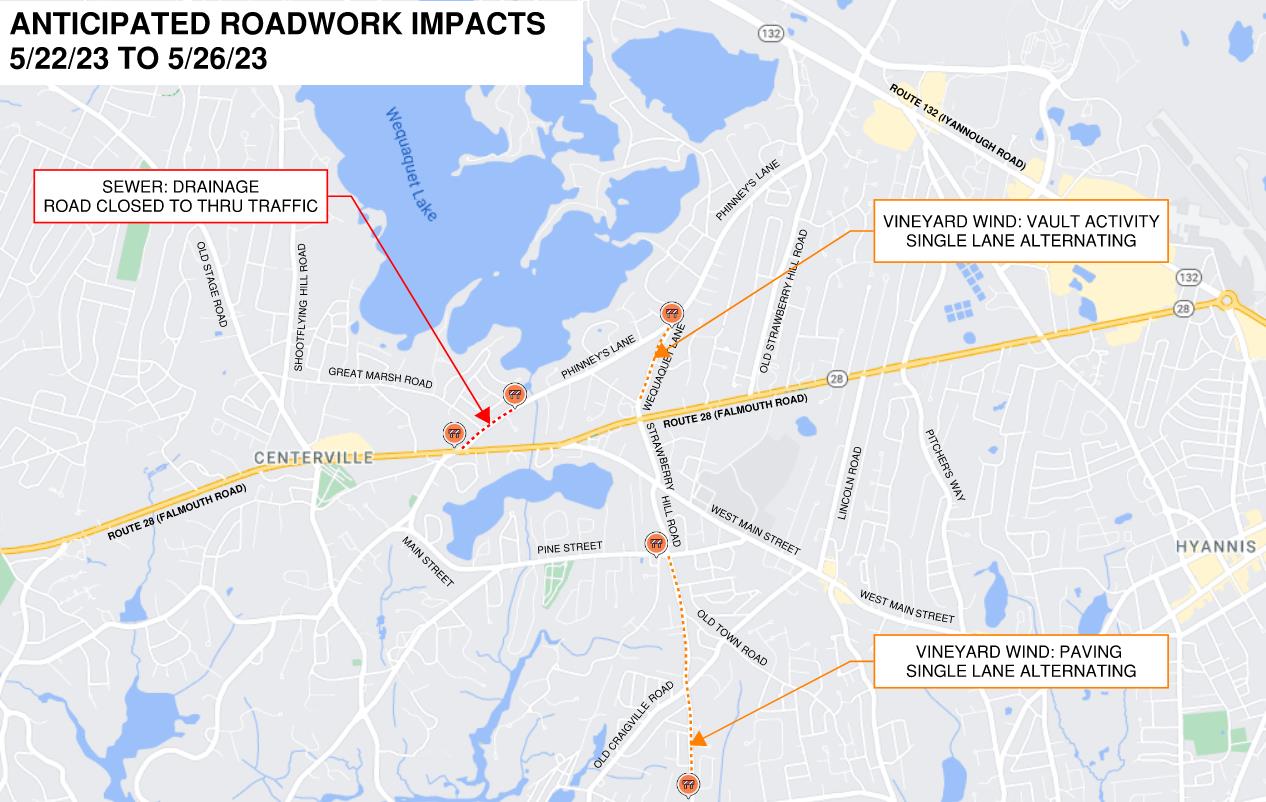 Anticipated Strawberry Hill Road and Route 28 East Sewer Expansion Construction Schedule
Currently within Phase 1 of the Comprehensive Wastewater Management Plan, we are pleased to provide the following project status updates:
Strawberry Hill Road Sewer Expansion Project: 95% complete; contractor working through restoration including loam, seeding, clearing of debris and various other repairs along the project route.
Route 28 East Sewer Expansion Project: 30% complete; the contractor will continue necessary drainage work on Phinney's Lane to prepare the roadway for the summer season.
Anticipated Sewer Construction: Week of 5/22/23 – 5/26/23
Drainage on Phinney's Lane (Between Route 28 and Great Marsh Road)
The Town's contractor, Robert B. Our, will continue necessary drainage construction and temporary restoration along Phinney's Lane, requiring the road to remain closed from Route 28 to Great Marsh Road. Local resident and emergency access will be maintained. Traffic control will be onsite to assist motorists as needed.
Sewer Pump Station
Sewer pump station work will continue at 528 Craigville Beach Road and 1456 Falmouth Road/ Route 28. No roadway impacts are anticipated.
If you have any questions or wish to receive project updates, please contact Kelly Collopy, Communications Manager, at the Department of Public Works at 508-790-6400 or Kelly.Collopy@town.barnstable.ma.us.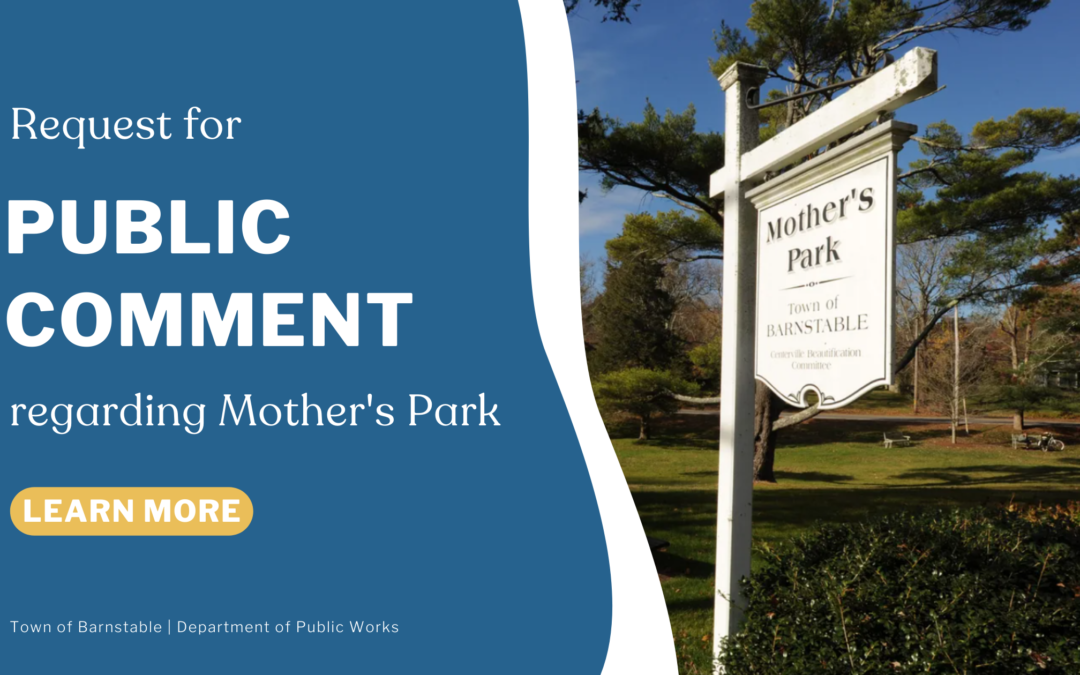 As part of the Town of Barnstable's Comprehensive Wastewater Management Plan (CWMP), the Town is seeking Legislative approval for proposed alterations to Mother's Park, Centerville. Public comments will be accepted until close of business on Monday, May 15, 2023.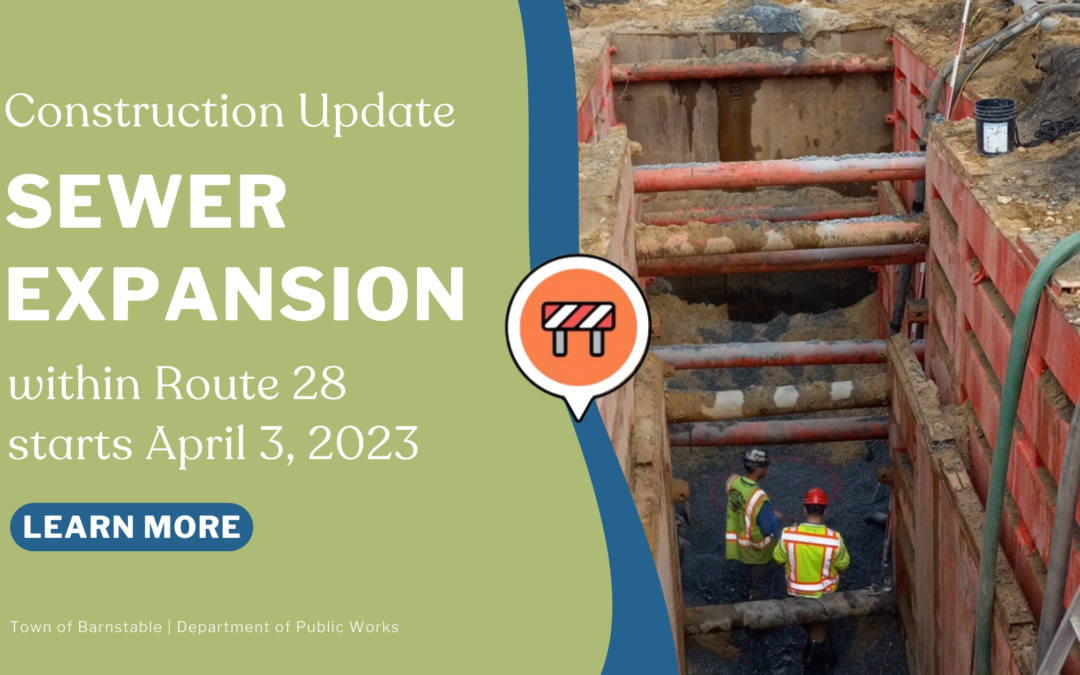 Starting Monday, April 3, 2023, through Friday, May 25, 2023, sewer construction will transition into the Route 28 roadway. Construction within the state highway will occur during the hours of 8:30AM to 5:00PM, weather permitting. Posted detours will be in place, supported by onsite traffic control to direct motorists.