Starting Monday, April 3, 2023, through May 25, 2023, sewer installation will transition into the Route 28 roadway. Construction within Route 28 will occur during the hours of 8:30AM to 5:00PM, weather permitting.
Construction will occur in two phases:
The first phase of work will allow for traffic on Route 28 to be maintained, with necessary lane adjustments, in both directions.
The second phase of work will require a single-direction detour of westbound traffic, as shown in the accompanying Route 28 Figure. Within this phase, eastbound traffic on Route 28 will be maintained with necessary lane adjustments. Businesses on Route 28 will remain accessible during construction via posted detours and with assistance from traffic control.
Phase 2: Anticipated Westbound Traffic Detour on Route 28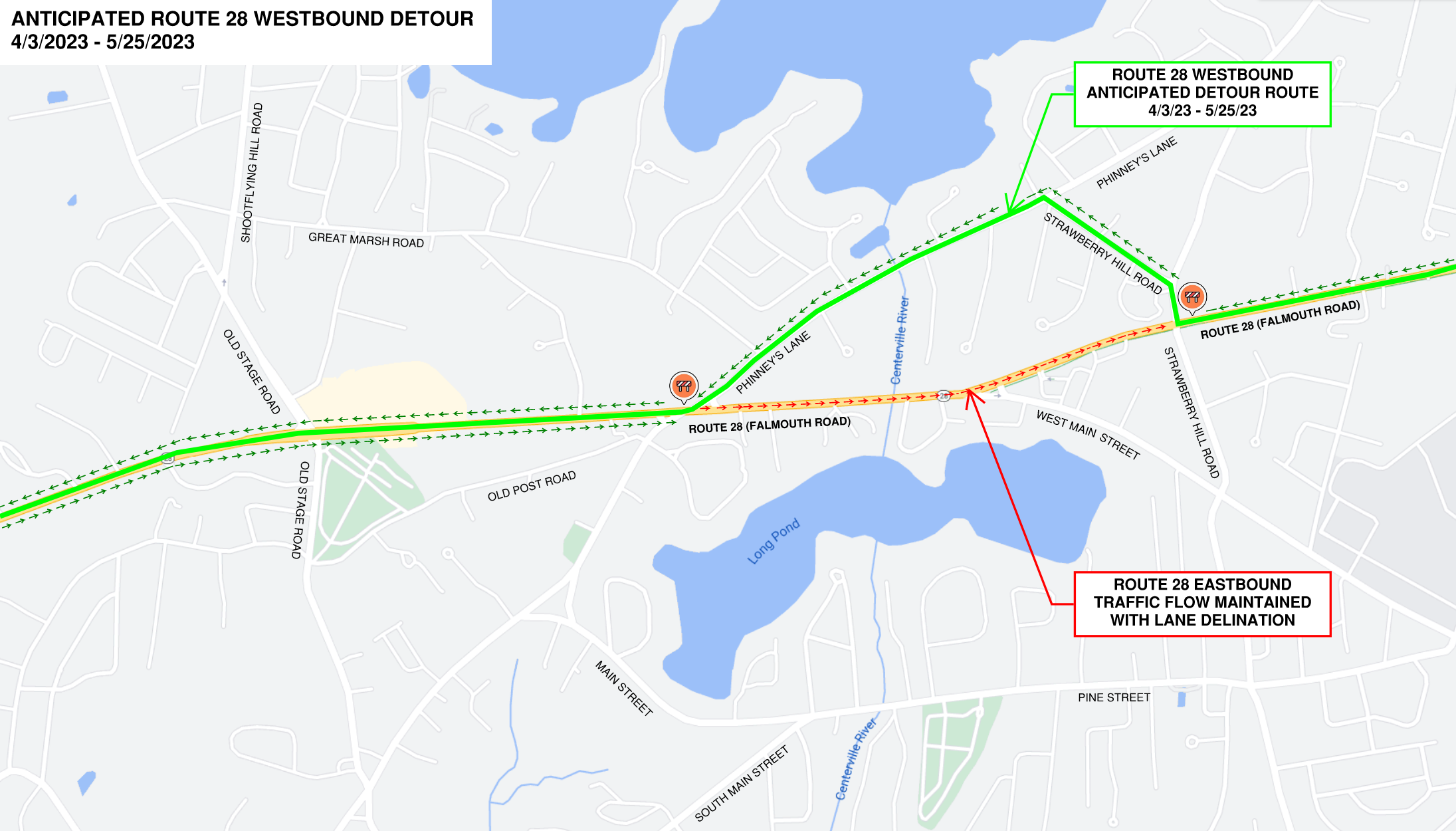 Construction equipment will be mobilizing daily. Motorists should expect delays. As always, please slow down and use extreme caution when traveling through the road construction areas, and follow posted safety and detour signs.
Please note: Construction of this nature is not only extremely complex, but also fluid, dependent upon progress achieved daily. While we understand that changing traffic patterns are frustrating, we thank you in advance for your patience as we navigate this new construction zone together. 
The best way to stay informed on changing traffic patterns is by reviewing real-time road closures and detours via the Waze App or directly on browser-based Waze Live Map located at: https://www.waze.com/live-map
If you have any questions or wish to receive project updates, please contact Kelly Collopy, Communications Manager, at the Department of Public Works at 508-790-6400 or Kelly.Collopy@town.barnstable.ma.us.