PROJECT OVERVIEW
Project Summary
The first phase of sewering will occur in the village of Centerville. The new gravity sewer will be installed in portions of Craigville Beach Road, Strawberry Hill Road, Wequaquet Lane and Phinney's Lane. 
The project is being coordinated in conjunction with the Vineyard Wind 1 Project. Coordination of the two projects will reduce construction-related disruption to local roads and neighborhoods, and save taxpayer dollars. In 2018, the Town of Barnstable and Vineyard Wind entered into a Host Community Agreement
that allows Vineyard Wind to:
"Land" electric cables to at Covell's Beach
Install electric duct banks in Town roads from Covell's Beach to a new substation in Independence Park
In return, Vineyard Wind agrees to:
Make cash payments to the Town ($16M over 25 years, plus an additional $60,000 for each year the project is in operation beyond 25 years)
Resurface all impacted roadways
Resurface Covell's Beach parking lot
Make $80K payment for repairs to Covell's Beach bath house
Status: Construction is underway and on schedule for completion Spring of 2023.
CONSTRUCTION OVERVIEW
Construction Overview
Construction of the Strawberry Hill Sewer Expansion Project will begin September 2021 and extend through the Spring of 2023.

CC Construction is the Town's Contractor for this work.
All construction work will be coordinated with the Vineyard Wind 1 Project (Lawrence Lynch Contractor) to minimize disruptions on local roads and neighborhoods.
Work will be underway at multiple locations throughout the construction period. Work by Vineyard Wind's contractor will begin at Independence Park. Work by the Town's contractor will begin near the pump station site at Craigville Beach Road and work north toward Pine Street and west towards Covell's Beach.
Work within roadways will be restricted between Memorial Day and Labor Day, unless otherwise approved; and work hours are Monday – Friday from 7 AM to 3:30 PM, unless otherwise approved.
QUICK FACTS
Quick Facts about the Strawberry Hill Road Sewer Expansion Project:
326 equivalent dwelling units (243 properties) will be connected to sewer service along this route. Visit the Property Lookup to see if your property is among the properties to be connected by this project or other Phase 1 project.
19,150 linear feet of gravity sewer line will be installed along the route.
6,300 linear feet of sewer force main will be installed .
3,500 linear feet of Hyannis Water main will be replaced.
A new pump station will be installed at 528 Craigville Beach Road.

 

The as bid cost of the Strawberry Hill Road Sewer Expansion Project is $11,710,006.49:
–  Sewer: $10,121,521.99
–  Water: $1,128,614.50
–  Pump Station: $459,870.00
The project is eligible for low interest loans and potential principal forgiveness through the State Revolving Fund, as well as a 25% subsidy through the Cape Cod and Islands Water Protection Fund. For more information on the Town's CWMP financial plan, please visit the CWMP Finance page.
PROJECT OVERVIEW
Project Overview
The Route 28 East project will allow approximately 90 properties to connect to the municipal sewer system and will install critical infrastructure needed to proceed with other Phase 1 sewer expansion projects. 
This project will expand sewer westerly along Route 28 to the intersection of Route 28 and Phinney's Lane. The project will install approximately 8,600 linear feet of new sewers within Route 28, Phinney's Lane, and West Main Street. 
The project will construct a new sewer pump station at the Town-owned property located at 1456 Falmouth Road, and will install approximately 11,600 linear feet of sewer force mains from the pump station to the Water Pollution Control Facility. The project will also install 4,300 linear feet of water main within Route 28, Earle's Court and Captain Ellis Lane to improve water quality and water pressure.
Status: Construction is underway and on schedule for completion late Spring of 2023.
COMING SOON: HOMEOWNER GUIDE TO SEWER CONNECTION
As sewer installation approaches the intersection of Strawberry Hill Road and Route 28, traffic management plans will adapt to support a safe working environment, while also addressing local traffic needs.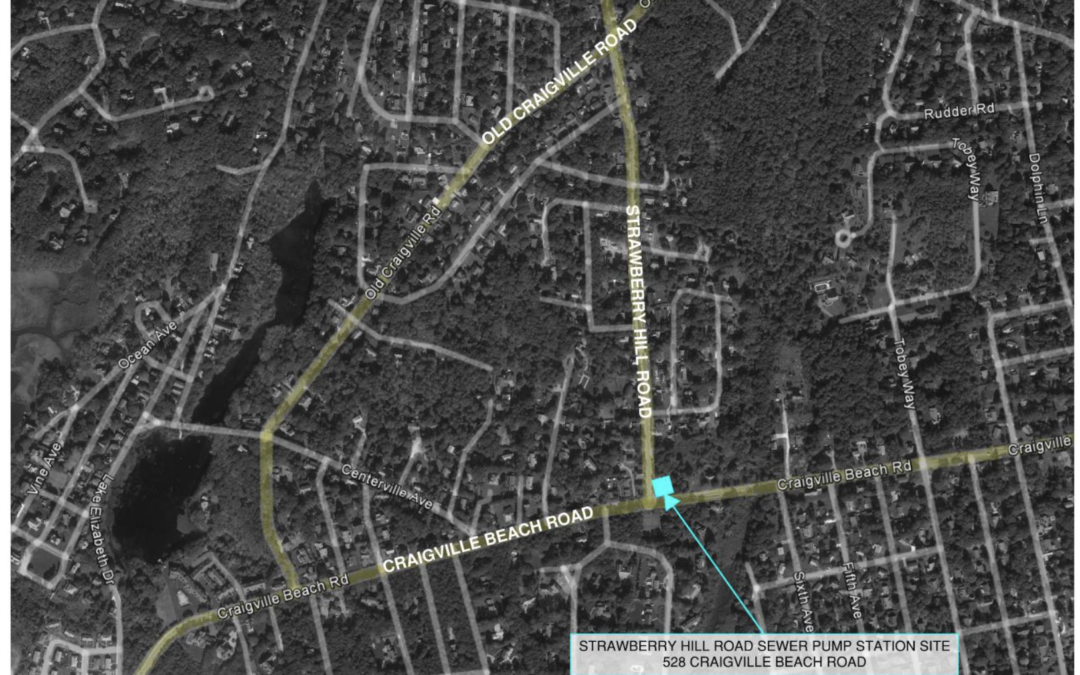 The Town of Barnstable's Contractor, CC Construction, has begun mobilizing equipment to the 528 Craigville Beach Road parcel, in close proximity to the intersection of Strawberry Hill Road and Craigville Beach Road, Centerville, in anticipation of the start of...