Water quality monitoring for the 2023 season began on May 23, 2023. Should a Town waterbody fail to achieve an acceptable result, advisories will be posted below via a Town of Barnstable Water Quality Report.
Town of Barnstable Water Quality Reports
The following water quality updates have been issued for Tuesday, November 14, 2023: The Cyanobacteria Monitoring Program has concluded for 2023. A final seasonal sample collecte at Parker Pond, Osterville indicated that a Pet Advisory continues due to the presence of...
Cyanobacteria Monitoring Map
Barnstable County has partnered with the Association to Preserve Cape Cod (APCC), a local non-profit environmental organization, to proactively monitor Cape Cod's ponds for cyanobacteria and, more specifically, the toxins they sometimes produce. For more specifics regarding the particulars of the monitoring program, please visit APCC's cyanobacteria monitoring web page.
CYANOBACTERIA MONITORING IN THE TOWN OF BARNSTABLE
Understanding the Problem
Cyanobacteria are microscopic bacteria that live in all types of waterbodies. A large growth of these bacteria results in algal blooms. These blooms can pollute the water and may even be toxic to animals and people.
When a dramatic increase in a cyanobacteria population occurs, this is called harmful algal blooms (HABs). This often results in the waterbody turning bright green or blue-green, and forms a surface scum or a discoloration of the water column. CyanoHABs may also form a mat on the bottom sediments, making it more difficult to observe. The surface scums or discolored waters can extend several inches below the water surface, or accumulate near shorelines and in coves as a result of onshore wind activity. They often look like pea soup or spilled, blue or green paint; however, the color can also vary. CyanoHABs can cause dissolved oxygen swings that may result in plant and animal die-off, taste and odor issues, and can cause potential public health issues from the cyanotoxins they may release.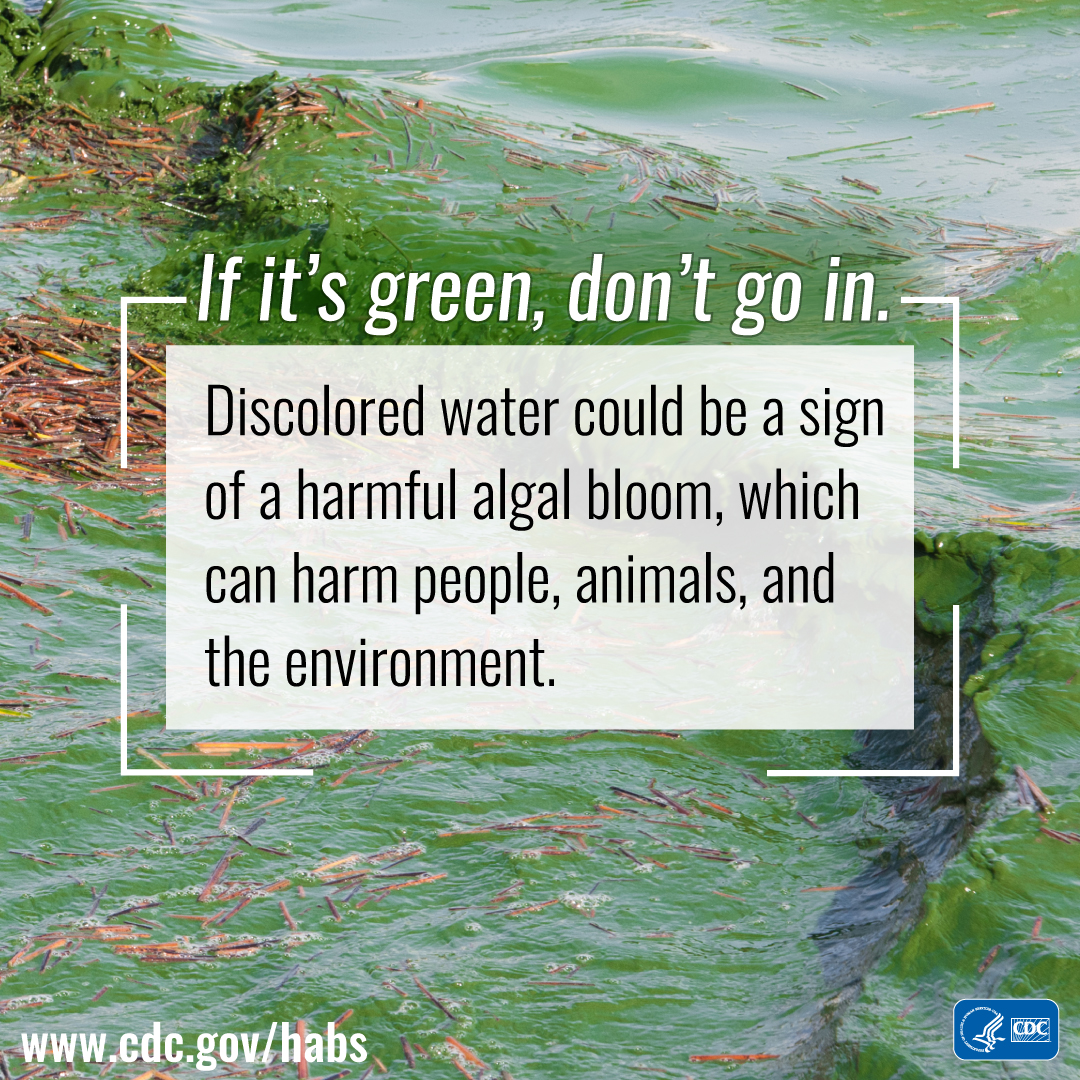 Cyanobacteria on Cape Cod
Typically, cyanobacteria's potential for overgrowth is kept in check by a balance of several different factors, one of which is nutrient availability. All animals and plants require nutrients to grow and thrive, but if an external force makes nutrients either scarce or overabundant, the balance is disrupted. Here on Cape Cod, human activities – from fertilization to faulty septic systems – have introduced an overabundance of nutrients into the environment, which leads to an ecologically unhealthy condition called eutrophication (the process by which a water body becomes enriched in dissolved nutrients such as phosphates and nitrogen). The greater the nutrient availability, the more fuel for cyanobacteria (and other undesirable plant life) to grow and thrive. Global warming also plays a key role with warmer pond temperatures favoring cyanobacteria. Learn more about cyanobacteria monitoring across Cape Cod through Barnstable County's efforts.
UNDERSTANDING CYANOBACTERIA ADVISORY ICONS
Protect Yourself and Your Pets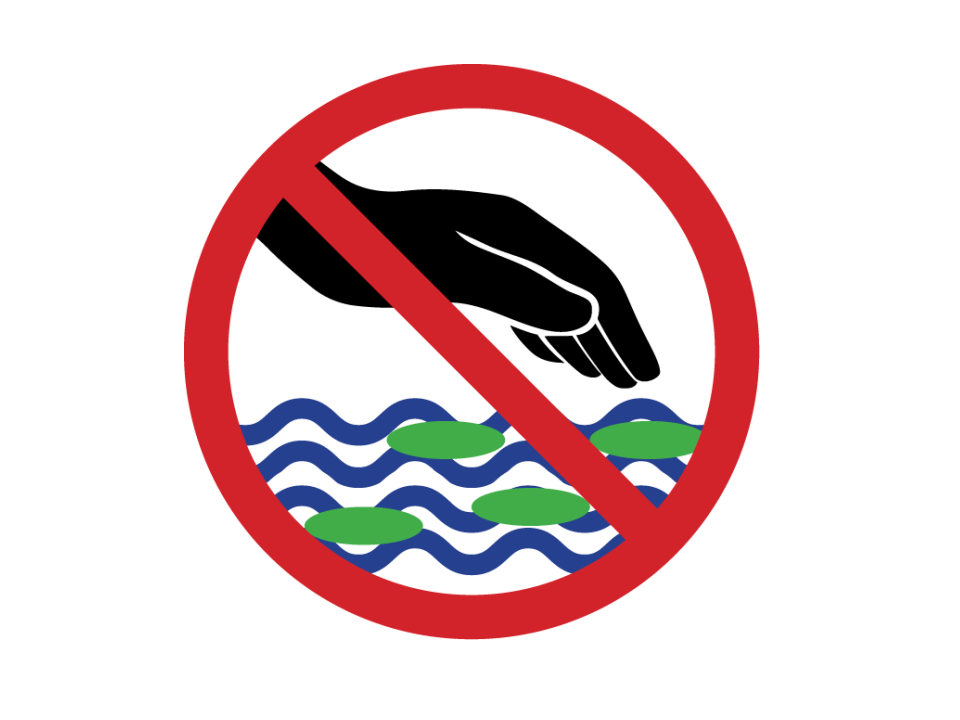 Algae Contact
If you have any contact with water, rinse off immediately.
Do Not Drink
Do not swallow water. Do not use water for cooking. Boiling or filtering will not make it safe.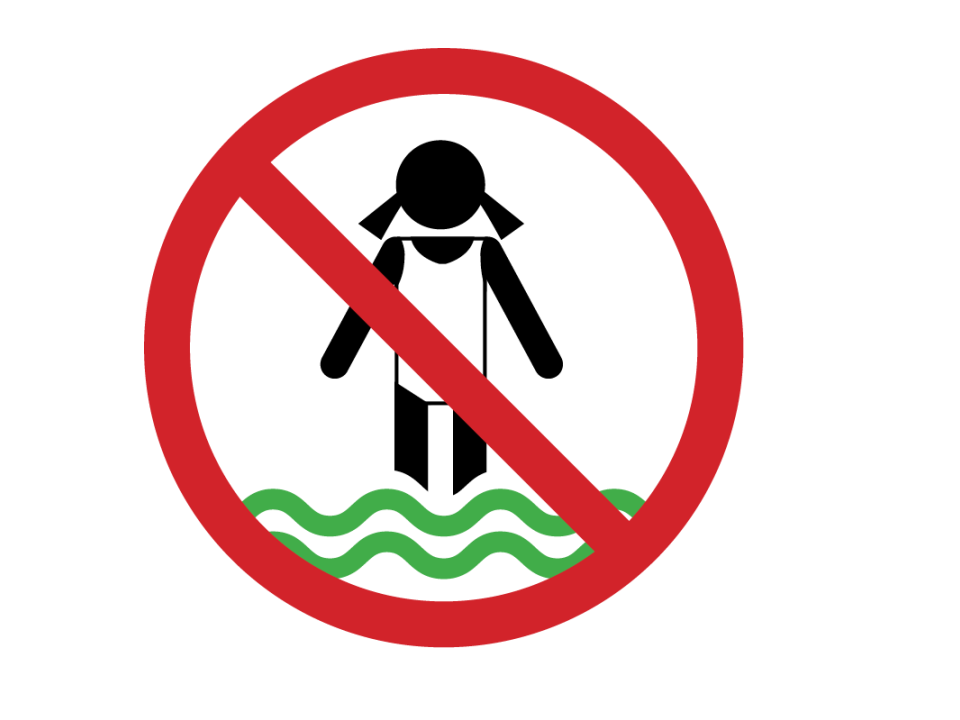 Children
Keep children away from algae in the water or on the shore.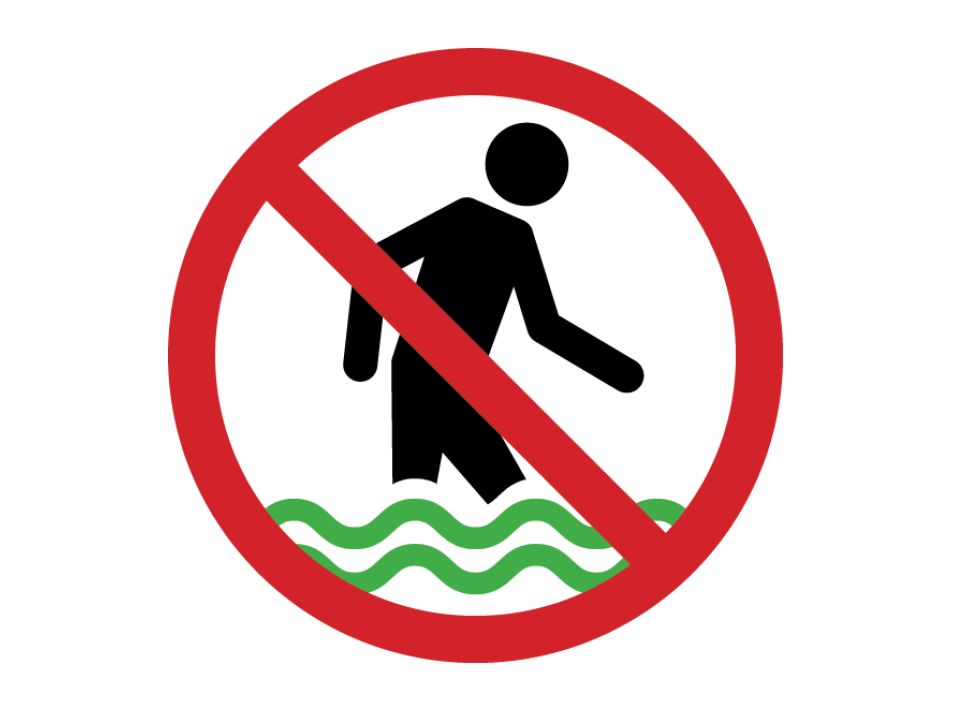 Stay Out
Stay out of the water until further notice. Do not touch scum in the water or on shore.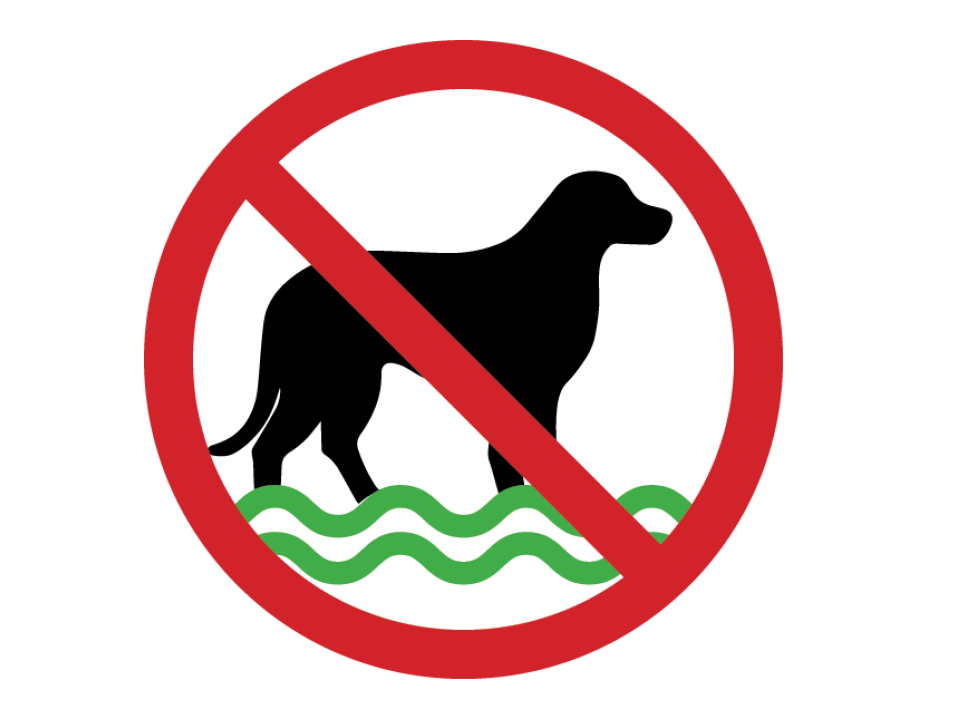 Pets
Do not let pets go into or drink the water or eat scum.
Shellfish
Do not eat shellfish from this water.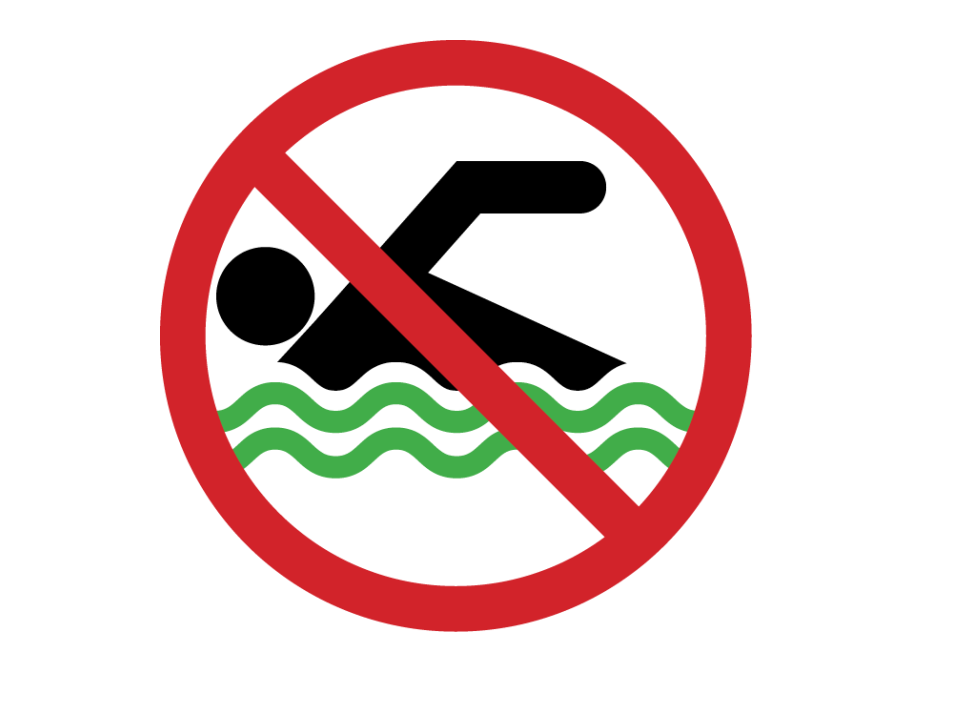 Swimming
No swimming when blooms are present.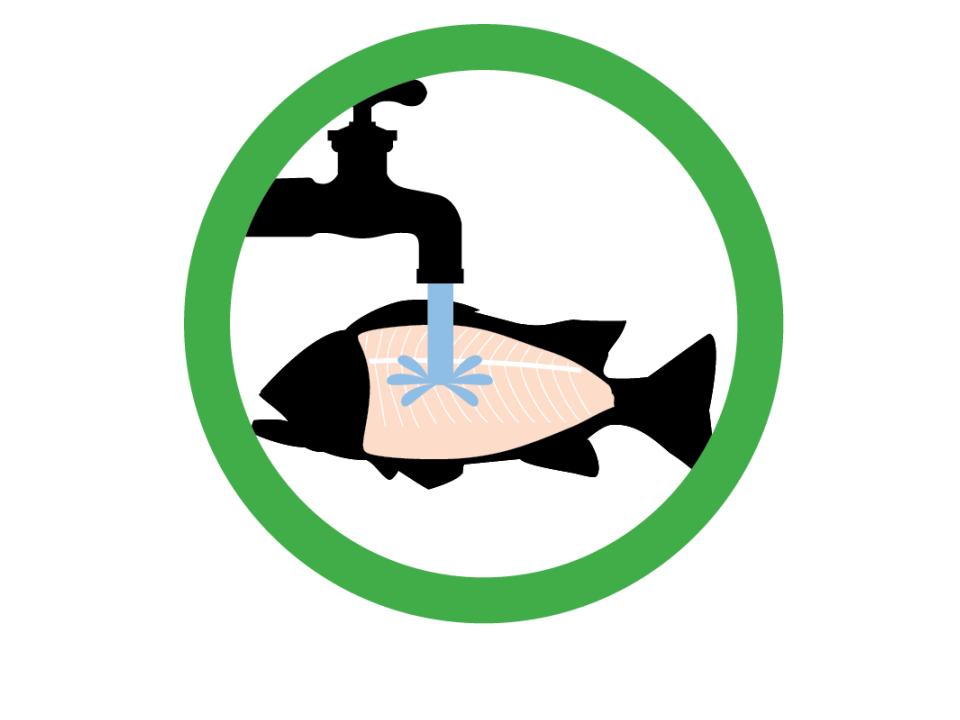 Fishing
Throw away guts, clean fillets with tap or bottled water before cooking.
Stay Informed
When in doubt, it's best to keep out! Learn more about cyanobacteria by reviewing related materials and resources from trusted sources such as the Centers for Disease Control,  the United States Environmental Protection Agency and more.